Pallet Projects: 10 Fun DIY and Craft Ideas
When it comes to building furniture, pallet projects should be the first thing you consider!
Recycled and reclaimed pallets can be repurposed and upcycled to build anything your mind can imagine. And it reduces waste by re-using it for other purposes.
And the best thing. You can craft your projects for virtually no cost!
Either your kids want a fun summer project to build, your garden needs some new furniture or your partner wants some new home décor; the possibility and fun can be endless!
You can use pallets as a whole or dismantle them down into single boards. Either way, they are a cheap, versatile, and perfectly textured building material.
Join this furniture building revolution and browse through our favorite and most informative pallet projects from around the world.
We have featured; patio furniture, coffee tables, bookcases, garden planters, porch swings, and more!
Table of Contents
Read on below to understand the different pallet types, safe pallets, and where to source pallets from.
Where do you Find Free Pallets
We all want a bargain, RIGHT?!
Sourcing free or cheap pallets is no different.
Especially when you are looking to build some low-cost craft.
To start with you need to make sure you know the difference between US, UK, and European pallets and what safe pallets look like.
Once you are confident, use the places below to go and find your pallets.
Pallet cores, recycled pallets, or reclaimed pallets can be found in a huge variety of places.
Just remember
Source all of your pallets from a single location. There is so much variation in pallets that it can be easy to source different pallet types and them not be compatible for your project.
Here are our favourite 7 places to source free pallets from:
Local food markets
Hardware and furniture stores
Newspaper stores
Publishing factories
Construction sites
Recycling centers
Online ads (e.g. craigslist)
Safe Pallets
Not all pallets are created equal.
Once you have sourced your pallets, before using them, you will want to make sure they are safe to use.
Unfortunately, some pallets are chemically treated for pest control purposes. You should avoid using these pallets for your craft projects as they can irritate your eyes and cause skin irritation.
So how can you avoid chemically treated pallets?
Most pallets have what's known as a IPPC "International Plant Protection Convention" stamp.
To understand if a pallet is safe for pallet craft you need to make sure you understand the treatment code.
| Treatment Code | Description | Safe For Craft? |
| --- | --- | --- |
| DB | Untreated pallets which have just been debarked. Similar to how you can use a draw knife for debarking logs. | Yes |
| HT or KD | Heat treated or kiln dried pallets. Similar to how a cabin manufacturer can use a kiln to dry out green lumber. | Yes |
| MB | Methal bromide is a gas used to treat pallets to prevent against pests. | No |
If you cannot establish if a pallet has previously been treated or is safe to use, then do not use it!
Pallet Sizes and Types
Unfortunately, there is more than type of pallet.
Pallets come in many different sizes, types, styles, and weights.
To finish the complexity off; they are made from different lumber types too.
The main two pallet types are:
Stringer pallet
Block pallet
The three different pallet sizes are:
US (GMA) sized at 48×40 inches
UK (Standard) sized at 47×39 inches
Euro (EUR1) sized at 47×31 inches
Below we have created a graphic on all of the different styles of pallets to help you use as a reference.
Remember, what we said in the getting free pallets section, get all of your pallets from the same place. This will protect the untrained eye from using different pallet types and your project failing.
10 Pallet Projects
Outdoor and Patio Furniture
Wow!
If you have been looking to take on a new project, or, looking to purchase some new outdoor patio furniture… then take a minute.
The superb example above shows you what can be achieved with two truckloads of free pallets, sandpaper, and outdoor paint.
In 6 hours, and by spending $40, you too could have some new outdoor patio furniture.
This superb pallet project was built by stacking pallets (cut in half) on top of each other into 3 stacks high and 5 stacks wide. In total, 15 pallets were used.
Once cut and sanded the pallets are simply screwed together to fix them into position before staining.
Once built, you can choose to keep the couch authentic and rustic or furnish it with throws and cushions.
Garden Projects, Looking for a new Planter?
This compact and easy-to-build garden planter is a superb way to use reclaimed wood and create something beautiful.
With very little money, time and skill, you will find this is one of the easiest garden pallet projects you can undertake.
This is a really fun outdoor project which will bring your garden alive with one, two, or four new planters!
There are many designs shown and you can, with a little imagination, modify any of them to make a more suitable version for your garden pots and shrubs.
Feeling more adventurous? You could also add hooks to incorporate a hanging basket!
Instead of fixing pallets together, this project modifies a single pallet. This makes the construction of these garden planters much faster and easier.
If you're looking for a garden project to undertake today, then get started now.
Looking for Somewhere to Store Your Books?
One of our favorite projects in this round-up!
A very sleek and simple bookshelf that can provide you, or your children, with a very fun DIY adventure.
This superb pallet project breaks down pallets to be used as simple containers which make for very elegant wall-mounted bookcases.
This bookcase has multiple shelves making it surprisingly spacey with each bookshelf storing over 20 books.
This project has three main phases:
1. Disassembling
2. Sanding
3. Painting
If you follow this fast and easy tutorial you will soon have a beautiful and elegant bookshelf in your home, made from reclaimed pallets.
Coffee Tables and Wheels
Gather your tools.
For this pallet table, you will need a power drill, angle grinder, screwdrivers, nail puller, orbital sander, glue, and screws.
This rustic glass finished coffee table was assembled by stacking 3 pallets on top of each other.
Similar to the patio couch above, lots can be achieved by simply stacking pallets on top of each other. It's a fast, simple, and easy construction technique.
The table is then finished with a sturdy piece of pool glass to make a complete robust coffee table.
A coffee table can be a great addition to a living area, providing moveable and easy storage for books, drinks, wine bottles, magazines, and more.
Outdoor Porch Swing Bed
Looking for something a bit fun and adventurous to build?
This porch bed swing is an exciting place to start then.
You can also easily modify it into a simple porch swing!
A bed swing has probably not been as high up as a bookcase, table, or patio furniture on your "to-build" list. But, a swing bed has to be one of the most fun outdoor projects we have seen.
If you are looking for a good and FUN DIY project then this is one for you.
A lazy dreamer's dream has just come true, what could be better than swinging on a nice comfy bed at dusk?!
This construction technique can be made very simple with pallets and rope, or a bit more robust with support columns and struts.
DIY Candle Sconces/Holders
This is probably the quickest and easiest project in this collection of 10 pallet projects.
If you enjoy the look of reclaimed pallets, and rustic interior décor for your home, this simple tutorial is one for you.
With one pallet and two hours, you can easily have these candle sconces mounted on your wall for beautiful ambient lighting.
Unlike most of the projects listed, this one breaks down pallets and uses single boards for their rustic décor.
They can also double up as fun Easter, Christmas, or birthday presents!
Whilst being easy to make they also require very little in terms of tools and money so it's a great starting project for anyone new to building with pallets.
Kids Project! Need Somewhere to Store those Toys?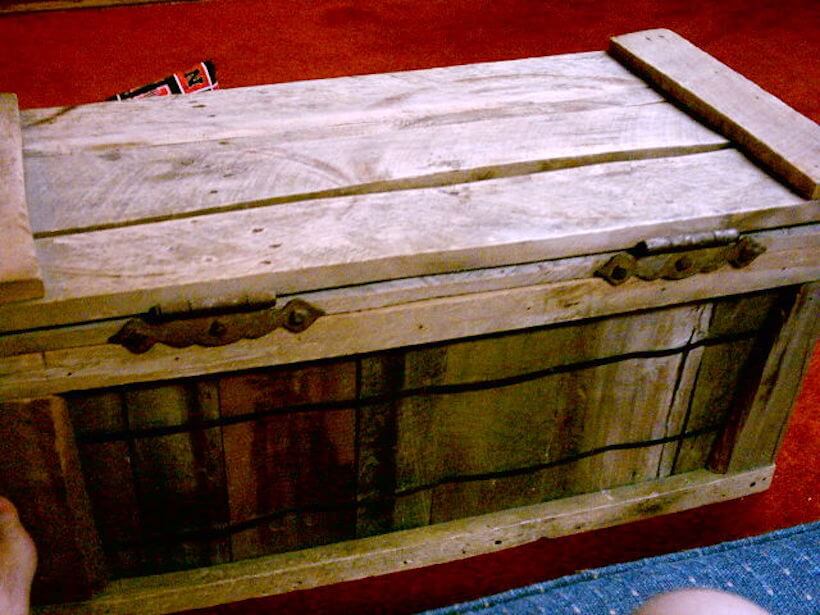 Looking for somewhere to store all of those toys or household goods?
Teach your kids DIY and also build something practical and useful with them. So why not have fun and build a pallet trunk?
Teaching your kids DIY whilst upcycling is a great way for everyone to learn.
A pallet storage trunk can also be multifunctional and you can use it to store household items (e.g. toys) and as a table (e.g. drawing table).
This is one of the more difficult projects on the list as it involves completely breaking down the pallets and building a frame from scratch; as opposed to using the pallet as the building blocks in other tutorials (e.g. swing and patio furniture).
Desks, Folding Desk, Collapsing Desks and Workspaces
The most versatile piece of furniture… a desk!
This desk comes with a small twist though, well actually a fold!
This superbly well-designed pallet project uses a single pallet to create a folding desk; perfect for those in tiny cabins or tiny homes to maximize their space.
Its versatility makes it an ideal candidate as one of the best uses of reclaimed pallets we have seen.
This small project will have a big impact on your home.
As it uses hinges and sashes it will require a little more patience and craftsmanship than the other projects, but, stick with it… it's definitely worth it!
Once built, this folding desk can be used as a bureau, desk, vanity table, or computer station.
Pallet Cabin!
It wouldn't be a log cabin blog if we didn't bring you an awesome pallet home!
This cabin was built using recycled pallets and reclaimed wood to create an awesome tiny log home.
This obviously isn't for casual crafter or DIYer but a more seasoned woodworker.
We think there is something really ingenious about building a home from reclaimed materials; it's something we were really inspired by.
If you are serious about building a log cabin then definitely start by reading how to build a log cabin, and the best log cabin plans.
Storage Containers, Shoe Racks, Coffee Holders, Wine Racks and Kitchen Racks
To finish this round-up, we wanted to share some home interior pallet ideas with you.
From storage containers and coffee holders to wine racks; there and endless possibilities for this type of craft.
Taking a used pallet, reclaiming it, and then repurposing it is a fantastic way to build for your home.
Not only is it fun, easy, and fast, but it's also very cost-effective and can provide you with durable interior and exterior furniture for years to come.