The Butt and Pass Log Cabin Method: No-Notching Corner System
The butt and pass log cabin construction technique is a method used to build log homes. It is a technique devised for beginners to build log homes with minimal craftsmanship or previous woodworking experience.
If you have decided on the butt and pass joint to construct your log cabin you will have heard of both the Log Home Builders Association and Skip Ellsworth; the latter an inventor, and the former a big advocate of the technique.
The fundamental concept behind the butt and pass method is the ease of construction and minimal maintenance.
To say it requires no skill or craftsmanship is a disservice to the technique. But, it's certainly the most viable log home construction technique for someone without previous experience.
Since its creation, by Skip Ellsworth in the 1970s, it has been the most popular technique for building log cabins; you most definitely will have seen log homes built using this technique before!
Its rise in popularity has been attributed to ease and speed of construction, inexpensive technique, and user-friendliness.
This post will not cover the various debates regarding this technique and alternative notching techniques as they can be read here – Log Cabin Notches for Beginners… Which Corner Notching System is Best?.
This post will cover what the butt and pass technique is, a brief history of the butt and pass log cabin technique, why would you want to consider using this technique and how to build a log cabin use the butt and pass method.
So, if you want to learn how to build a log cabin using the butt and pass log cabin method, then continue reading below.
What is the Butt and Pass Technique?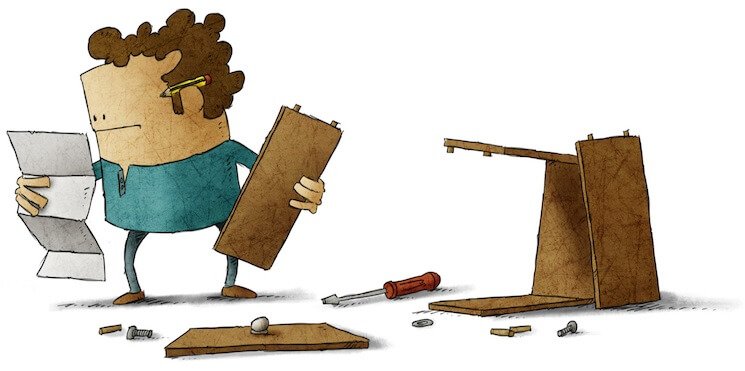 Before you read this section, make sure you understand how to build a log cabin and the various stages involved.
If you haven't yet, read our article on how to build a log cabin.
You will know that notching a log cabin takes place during the construction phase when you start the log wall construction.
Whilst the butt and pass technique isn't strictly a notch, as you don't scribe anything, it is a substitute for a notch and so is often confused with notching.
So what actually is it?
It's just a method of construction for a log home.
The butt and pass style method of building cabins is a construction technique that uses tightly-pinned corners, to remove the need for any notching, to join the logs together.
The technique requires each log to be stacked on top of another, at right angles and then being pinned or fixed together. This can be done using rebar (i.e. a metal rod), pins, screws, or anything else suitable and handy.
In the image below, the logs alternate between long and short. The long log (A) rests on top of the perpendicular long log (B) below, and the short log (C) meets the perpendicular long log (B)
This log home technique can be constructed with both round, hand-hewn, and D-shaped logs.
For a d-shape log to hew the log you will need to remove a couple of inches from the top and bottom of a 12″ diameter log.
However, traditionally, and according to the Log Home Builders Association, you should use round logs.
Ideally, green, round, un-milled/manufactured, and naturally harvested logs. Straight from the forest to your log home without any milling or manufacturing processes being involved.
There are famous variations of the butt and pass technique.
Most notably, Skip Ellsworth, took the butt and pass carpentry technique and built a classroom around the concept; teaching students to use this technique.
Skip's implementation, is essentially a butt and pass technique using natural logs which are pinned and held together.
This construction technique unlocks numerous advantages over traditional notching techniques which will be discussed further in this article.
A Brief History of the Butt and Pass Log Cabin Technique
The butt and pass technique can help to achieve the beautiful "cabin in the woods" log home.
This rustic technique was heavily promoted and adopted by Skip Ellsworth in the 1970s and since then has found notoriety with professionals of the log cabin industry.
Butt and Pass is a very polarising construction technique for log homes; either you love it or can't stand it! For as many people for butt and pass, you will find against.
At the center of the discussion, is the idea of craftsmanship and notching vs. speed and cost.
As the history of these cabins is only 50 years old, longevity is often called into question. How well will the cabins withstand weathering and the test of time? We are yet to find out.
Why Would You Want to Consider Using the Butt and Pass Technique?
There are many reasons behind why this technique is the most popular construction method for log homes.
Simply put, it can be summarised as, no notching, no scribing, no log preparation and no manufacturing. These factors boil down into three points:
It makes the construction very cheap in comparison to traditional notching techniques.
It gives non-craftsmen the confidence to build their own log home.
It can be used by a single log home builder without assistance and support.
Here are four advantages of using a butt and pass technique:
1. Speed of Construction
The butt and pass technique requires zero scribing or notching. Because of this, it's much faster to build with than traditional log cabin notches.
2. Lower Cost of Construction
Again, back to zero notching. So, with speed, comes a cost reduction. This is due to the limited investment in tooling required and the speed at which you can build.
3. Ease of Construction
The third, and probably the biggest advantage with this construction technique. The ease of construction gives confidence to new log home builders and reduces barriers to building a cabin.
4. Cheap Cost of Logs
The method depends upon using naturally harvested logs. Because the logs don't require milling this can reduce the cost of the price paid for logs.
Whilst other information sources may claim this construction technique is stronger than more traditional notches and requires less maintenance, I wouldn't read too much into this. There isn't any empirical evidence to support this claim and it's based upon a few subjective log home builds.
How to Build a Log Cabin Using the Butt and Pass Technique
At this point, you should understand why you are using the butt and pass method, the advantages associated with using the technique, and why thousands of other log cabin builders have used this technique.
Now.
You must understand – how do you build a log cabin using this method?
This will be the fun part! Grab your hammer, drill, lots of rebar, and some muscles.
At the core of this technique is stacking logs and fixing them together with rebar.
The technique requires logs to work in pairs, and each log pair to be stacked on top of another, at right angles, and then being pinned or fixed together.
Each pair will be made up of two logs, alternating tip and butt (Log A and Log C). Log A will sit on top of the perpendicular log (Log B) and the Log C will meet and be stopped by the same perpendicular log (Log B). And so this continues.
Fixing the logs together should ideally be done by drilling and driving rebar into the logs.
The rebar should be anywhere from 14mm to 18mm in diameter and up to 36″ in length. You should pin through multiple layers of logs to create a better bond. You will want to pin at each corner and depending upon the length of your cabin every 6FT too.
The cabin should be fixed so it cannot be disassembled.
Top-Tip
Every log home which uses the butt and pass method should lay the first logs clockwise around the foundation.

So, the first log on your main elevation (normally south-facing) will be in the butt position at its left end and pass position on the right end. Then alternate the logs when constructing the wall.
You ideally should use a concrete piers with rebar to fix your sill logs to the foundation. Starting with piers will enable a much better foundation and prevent against settlement issues.
So What's it All About?
In summary, if you aim to build a very simple, quick, and easy home, then a butt-and-pass construction technique is ideal for you. Especially if you have limited previous experience in building log cabins.
The butt and pass notch can provide a beautiful log home if you like the look of not having a notch.
Remember, that all the benefits outlined above, of not using a notch, also bring disadvantages. An attempt to bypass traditional and bespoke corner notching that has been used for centuries won't be perfect. But, coupled with design prudence, and large overhangs, to remove moisture traps and harsh weathering, it is a good construction method.
If you have enough time, money, and patience (to learn new skills) then we would recommend you explore alternative notching techniques. You can start by exploring the traditional Scandinavian Saddle Notch.
Is there anything else you would like to know about this method? Do you have any experience of building a log cabin using the butt and pass method? Let us know about it below.