Top 25 Log Cabin Holiday Retreats of 2016 Awards
Nominations are now IN and we have now shortlisted the Top 25 Log Cabin holiday destinations from around the WORLD! We are delighted to offer our best congratulations to this year's winners!
We would also like to thank our fans who took the time to vote, and our dedicated team of log cabin enthusiasts who spent months researching thousands of holiday resorts searching for the most idyllic, undisputed log cabin rentals.
The Manta Resort

'Encapsulate yourself within a turquoise blue bubble' on this private floating wooden island located at The Manta Resort on Pemba Island, just off the East Coast of Africa. With a lounging area on the deck to soak up the sun and view the stars under by night and an underwater room downstairs which has an almost 360-degree view of the surrounding sea life, this truly is a once-in-a-lifetime experience.
Cabins at Lopstick

Offering the largest variety of log cabins in the heart of the North Woods of New Hampshire, Lopstick has something to suit everyone's budget and taste. Each cabin has a spectacular view of one of the surrounding lakes or picturesque mountains so guests can either bask in the surrounding beauty or make the most of the abundance of activities. Renting a snow-mobile and spending the day with a fly-fishing guide are just a few of the many activities on offer at Lopstick.
Kishauwau Country Cabins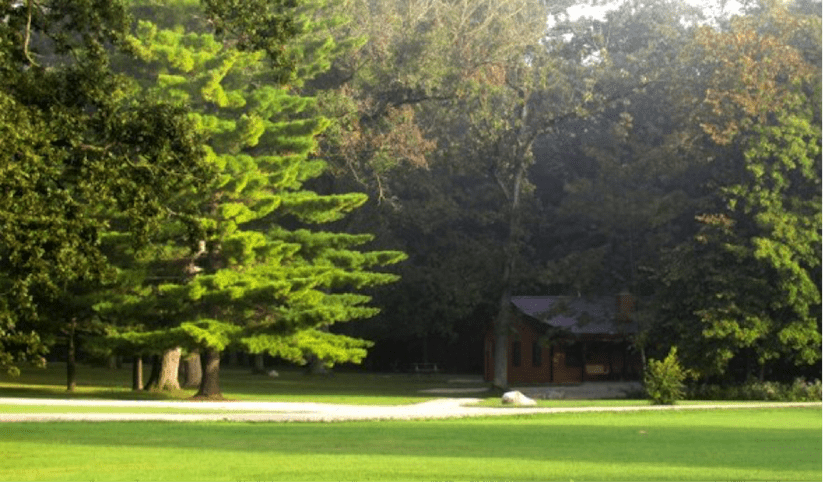 A family-owned and operated country-retreat located near the breath-taking Starved Rock State Park, the number one attraction in Illinois. These beautifully renovated cabins, which have been rated excellent by TripAdvisor, appeal to everyone. Choose anything from a cozy romantic cabin nestled in the scenic surroundings with its own bonfire pit, to a large cabin suitable for family reunions.
Hominy Ridge Lodge and Cabins

Offering year-round vacations in the heart of Cook Forest, Pennsylvania, are a range of unique and modern cabins. Set in seven acres of privately owned land, one of the many reasons this destination has been shortlisted is for the exquisite view available from the spa. If relaxation is not on your agenda, there are still plenty of things to do in the local area such as canoeing, hiking, skiing, and ice skating!
Hot Springs Log Cabins

The ultimate destination for your romantic getaway, located just a few miles away from the only natural hot mineral baths in North Carolina. This destination is perfect for couples looking to celebrate their honeymoon, anniversary, or just an excuse for some quality time together! Each of the five romantic, one bedroomed cabins, has it's own hot tub, and are spread out over 11 miles of land for absolute privacy.
Dunton Hot Springs

Set in the extraordinary alpine valley, nestled deep within the Colorado Rockies this stunning resort is best described as a ghost-town of contractions from the simplistic hand-hewn log cabins, which are finely furnished, to the sensuous hot springs overlooking the icy mountains. Each uniquely designed cabin has a magnificent view of the mountains and can be rented individually or as a whole town to provide for larger occasions.
Alpine Grove Touring Park

These four beautiful cosy log cabins, situated in Somerset, England, are surrounded by trees. Couple this with the solid wood burner, skylights over the beds to stargaze, and eating alfresco on the wonderful balcony, you really will feel at one with nature with all the luxuries of modern-day life. Every inch of the park upon which the cabins are placed is beautiful and holds a very magical atmosphere.
Woodland Cabins

Offering luxury accommodation over 44 acres of private, mature woods, lies this beautiful resort in Southern Illinois. This retreat is perfect for couples wanting a secluded, quiet holiday where you can spend hours walking through the woods and fields, or do a spot of fishing or boating on the three-acre pond! Each cabin has a private hot tub to unwind in and reconnect with one another and the surrounding nature.
Mountain Creek Cabins

Split over two sites across 160 acres of privately owned land in West Virginia, these family-run holiday resorts are surrounded by beautiful mountains, forests and streams. This is the ultimate secluded scenic retreat. If you are the more adventurous type, there is also a vast amount of activities available in the surrounding area such as caving, hiking, rafting, horseback riding, and wineries!
Alpine Village Family Cabin Resort

With superb panoramic views of the Athabasca River and Mount Edith Cavell, this beautiful wooded retreat, located in the Canadian Rockies is home to forty-eight cabins set in a natural pine forest. The retreat has a luxurious 16-foot hot pool, and accommodation to suit everyone's needs. You will be surrounded by wildlife such as elk, and may also be lucky enough to spot bears, coyotes, and wolves from the comfort of your pine cabin.
Ashville Cabins of Willow Winds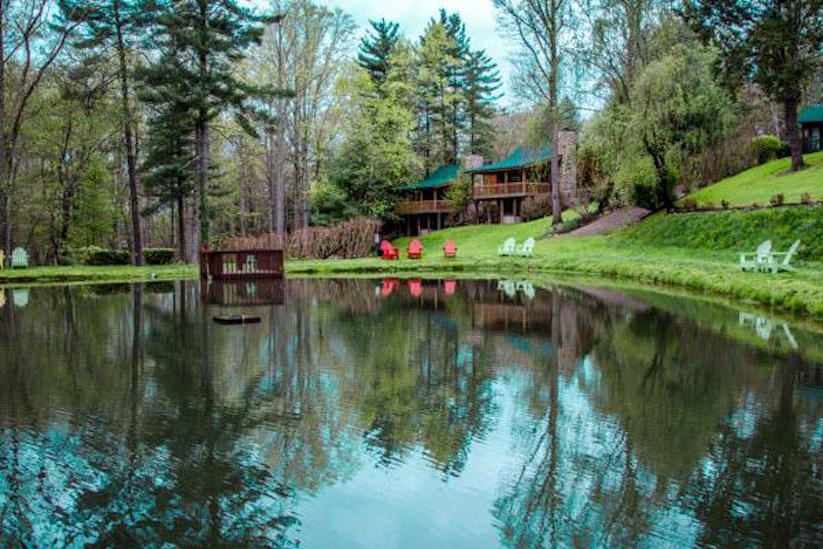 Nested in 40 acres of woodland, are twenty-five luxury cabins each with their own hot tub and wood-burning fireplace. This family-owned and operated destination adjoins the Blue Ridge Parkway in North Carolina and is located in one of the 'Ten Most Beautiful Places in America' as awarded by ABC news. Guests will be surrounded by natural beauty and can enjoy a natural mountain stream, waterfalls, and trout pond.
Banff Log Cabin

This incredibly beautiful guesthouse is located in an exclusive residential area in the heart of the Canadian Rocky Mountains. The rustic log cabin is separate from the owner's main home and offers complete privacy for a romantic retreat. The interior is luxuriously decorated, from the hand-crafted deer antler chandelier to the Queen sized black iron bed.
Beavers Bend Log Cabins

Nestled deep within the Kiamichi wilderness are eleven broken bow cabins, just a few minutes from Beavers Bend State Park, Oklahoma. Escape city life and retreat to complete seclusion in a setting unlike any other, surrounded by dense pine trees. There is also a private community center that can be rented for occasions, fishing ponds, and trails sprawled out across two parcels of land, of forty and twenty acres!
Cavender Creek Cabins

Cavender Creek offer seven luxurious cabins set in breath taking areas of natural beauty in the North Georgia Mountains. They cater to all needs, from romantic weekends, to family reunions, to business meetings. This destination offers complete seclusion and tranquillity, away from the hustle and bustle of city like but still managing to keep the homely feeling.
Country Charm Log Cabins

For memories that will last a lifetime, Country Charm Log Cabins, Arkansas, have six uniquely designed, hand-built cabins each with a private hot tub, picnic table, charcoal grill, double-sized hammock, and outdoor fire pit! These luxurious cabins are situated across 40 acres of wooded land, set in the most exquisite of settings. During the day, you can rent the pontoon boat, hike across the trails, or relax! Come night time you can lie in the hammock underneath a blanket of stars.
Dwr Y Felin Log Cabins

Dwr Y Felin is a family run business, set on the tranquil part of a working farm in Wales. The attention to detail and commitment that has gone into designing these three log cabins is exceptional. Each cabin has stunning views, a private hot tub, balcony, and an outside fire pit. The owners care deeply about making their cabins eco-friendly, from the trees used to construct the cabins, to the cleaning methods they use, to the solar-heated water system.
Lion Sands Game Reserve

The ultimate bush bedrooms! Lion Sands Game Reserve is absolutely exquisite. No amount of words or pictures can do them justice. You will be treated to a scrumptious picnic dinner, and watch the surroundings as they change from day tonight. Perfect for nature and wildlife enthusiasts, you will be able to see animals in their natural habitat at a safe and comfortable distance while your field guide will remain on-call throughout the night. This is definitely one to tick off our bucket list!
Arrowhead Pine Rose Cabins

Arrowhead Pine Rose Cabins is nestled in the San Bernardino National Forest of Southern California – this beautiful mountain resort is open all year round, and provides an escape from the hustle and bustle. Each of the twenty uniquely themed cabins lie within six acres of natural beauty, making it the perfect place to unwind and enjoy the picturesque surroundings of mountain streams and tall pine trees.
Smoke Hole Resort

Smoke Hole Resort, home of the region's most popular tourist adventure 'Scenic Smoke Hole Motorcycle Tours' brings bikers together from all over the United States to enjoy the twisty beautiful roads. This resort is not only for bikers and has much to offer someone from every walk of life, including breath taking caverns, 'West Virginia's Largest' gift shop, gem stone mining and a 'Catch-and-Keep' trout pond.
Valley View Cabins

Valley View Cabins offers fourteen beautifully designed cabins located in Hocking Hills, a privately owned 200 acre farm in Ohio. After a long day walking and hiking across the beautiful landscapes of Hocking Hills, why not enjoy a massage in the comforts of your log cabin?! Within the property is also a magical wedding chapel, and a stunning barn with breathtaking views, perfect for those looking for a secluded and intimate, romantic ceremony.
Harman's Luxury Log Cabins

With something to suit everyone, from one bedroom to four-bedroom cabins, this luxurious retreat is one of the best wedding locations in West Virginia. There is an abundance of outdoor adventure available such as zip lines, rock climbing, horseback riding, and skiing, and also plenty to do for children such as bouldering, inner tubing, and stone skipping!
Lands Creek Log Cabins

Set across eighty acres of land at the edge of the Great Smoke Mountains National Park, North Carolina, is this secluded yet convenient holiday destination where you can bask in nature or have easy access to the many activities in the surrounding area. Choose to lodge in the woods, on the ridgetop, or at the Creekside, each for a very uniquely different experience and exceptional set of views.
Cherokee Mountain Cabins

If you are looking for family fun or a romantic getaway, this resort has it all. Set in Nantahala, North Carolina, these ten cabins are like home-from-home with all the creature comforts you could want. They are exquisitely designed and are the very definition of rustic elegance! On the resort, there is a pavilion with beautiful craftsmanship, personal chef service available, and therapeutic massages available in your cabin!
Mountainaire Inn and Log Cabins

Located in Blowing Rock, North Carolina, Mountainaire Inn and Log Cabins have a selection of beautifully furnished rustic cabins, both at the main street location and also just a few miles away from the village offering more scenic views. Whatever the season, there is plenty to do, be it shopping, hiking or fishing and a wide range of local activities such as Art in the Park!
Above the rest Luxury Cabins

Located on a private 1500 acre preserve just a few miles from Blue Ridge, Georgia are twenty-eight luxurious log cabins with absolutely stunning panoramic view. All cabins have their own personal hot tub, perfect for spending the evening beneath the stars, and are exquisitely furnished. There is a lot on offer in the local area including white water rafting on one of the nearby lakes, fairs, and festivals, and gold panning!
So there you have it! THE top 25 log cabin holiday destinations from around the world! If you want to vote in our next annual awards or want to be included, be sure to put your name down on our subscription list for future information!