16 Best Free Cabin Plans With Detailed Instructions
When it comes to building your dream log cabin, the design of your cabin plan is an essential ingredient.
Not all plans are designed equal…
Cabins come in many different sizes, shapes, styles, and configurations. The design of your log home can help to maximize living space and reduce unnecessary effort during the notching and building phases.
From log cabins with a loft to A-frame cabins with 3-bedrooms, you will certainly find a perfect design from these beautiful log cabins.
Take a look through our 16 hand-selected cabin plans and then read what you need to know.
16 Cabin Plans
Cozy Cabin For Under $500
Built by The Outsider and his youth group, this cabin was constructed for less than $500 and took around 8 months to complete.
The YouTube video walks you through the step-by-step process of the build.
If you are looking for simple cabin plans, which you can build completely from scratch on a very small budget, this cabin is the ideal one to follow. The low budget is dependent on sourcing your own lumber, or else the price will increase largely.
Read this article for more information on the costs involved when building a log home.
Build This Cabin
Cabin on a Budget
The cabin on a budget is a tiny cabin measuring just 20 x 12 foot and can be built for under $2500.
These cabin plans are also much easier to build than a traditional log cabin, as using a technique involving framing and siding.
To the exterior there is a small porch area, and on the interior there is enough space for a small kitchen and living space.
Build This Cabin
Rosefield
Rosefield is a classic traditional cabin, which can be built for less than $6,000.
The cabin is open plan, which has the advantage of making it far easier, cheaper, and quicker to build than more intricate cabins with separate rooms.
These particular cabin plans also come with a detailed cabin assembly diagram and step-by-step instructions, which includes a foundation guide.
Build This Cabin
Three Bed Cabin
Designed to be highly energy-efficient, this three-bedroom, two-bath cabin is two stories tall with dormer windows built into the second floor.
The windows are cleverly placed to minimize the direct sunlight on the cabin, and it is built up off the ground to allow plenty of airflow underneath.
Build This Cabin
Alaskan Cabin Plans
The Alaskan cabin is a small home built over a 5 month period on weekends only.
The cabin has a porch area at the front, great sized windows which let in lots of natural light, and a loft space that acts as a bedroom.
On the ground floor, there is space for a table and chairs, a kitchen, and a living area. The stairs up to the loft are spiraled to allow for maximum space downstairs.
Build This Cabin
One Room Log Home
Built mainly from pinewood which was sourced locally, this is a small one-roomed cabin that would serve as a guest cabin or weekend getaway.
The cabin plans are very detailed and take you through step by step, how to build this cabin with supporting photographs.
Build This Cabin
Wooden Cottage Cabin
Perfect as a guest cabin, a lodge, or just a getaway, this set of free cabin plans comes complete with a materials list and extremely detailed instructions with drawings to accompany each step.
At a tiny 108 square feet, this cabin was designed to be just small enough to not require a building permit, and so would make the ideal cabin for those not wanting to apply for building permission.
Build This Cabin
The Norwegian Cabin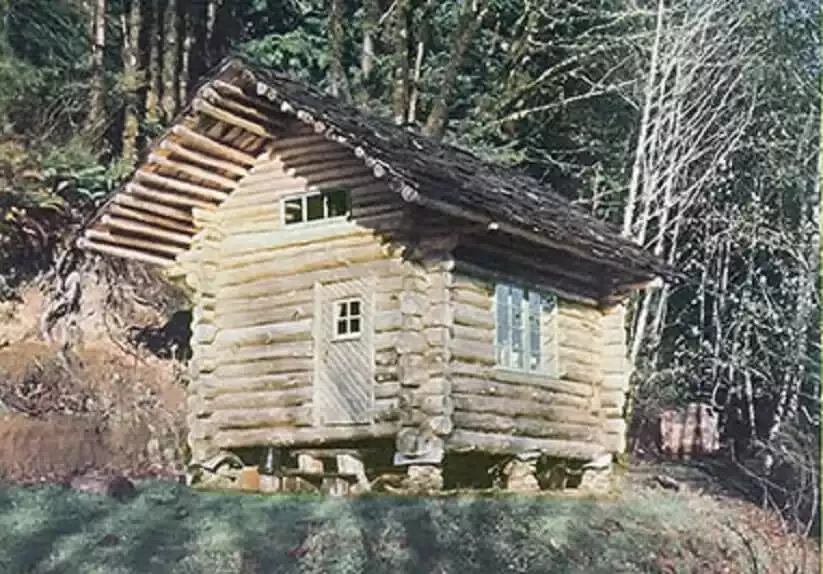 The Norwegian Cabin is a tiny home based on the Norwegian stabbur – a storehouse built on stilts.
To avoid having to handle large logs, this cabin only uses logs of less than 16 feet, and the home measures 10 foot by 13 foot.
These cabin plans include an open plan room on the ground floor and a bedroom in the loft space.
Build This Cabin
The A-Frame
This simple A-frame cabin plan has a porch to the front, which opens onto an open plan living and dining room.
Towards the back of the cabin are the bathroom and kitchen, with another door that leads out to a second porch at the rear end of the home.
On the second floor are two bedrooms each with its own balcony.
If you're looking for a garage to go with your log cabin plans, read our Log Garage Kits Roundup.
Build This Cabin
The Lookout Cabin
The Lookout Cabin is a small two-story plan which is perfect for those who have a narrow piece of land.
Spread over 500 square feet, downstairs, you will find a living space, kitchen, and bathroom.
Whilst, upstairs has a bedroom with an en-suite and a balcony.
Build This Cabin
Whitfield
Whitfield is a tiny cabin with a sleeping loft. The entrance to the cabin is through the sheltered front porch and it leads directly into an open plan area and kitchen.
The loft can be accessed by ladders where you will find the sleeping space. This plan also includes a complete cutting list, floor, rafter, and floor beam calculations.
Build This Cabin
Stealth Cabin
The Stealth Cabin is a tiny cabin, only 8'×8′, which is designed to look like regular garden storage to avoid any unwanted attention.
To the interior, there is space for a small kitchen, a toilet and shower, and a two-seater sofa.
These cabin plans are ideal for those who are looking for an off-grid cabin; it has no power, water or sewer connection.
Build This Cabin
Simple Log Cabin
This is a simple and traditional log home, which can be built for $30,000. The rustic home provides electrical and foundation plans too; giving the builder the advantage of building the cabin far easier.
The plan consists of two spacious bedrooms, with a single bathroom and an open-plan living area.
This cabin is perfect for someone looking to live off grid in the forest.
Build This Cabin
The Chesterfield
The Chesterfield is a good-sized family home that has porches to both the front and the back.
Upon entrance, the first room is the large living room, which opens up onto the dining room and kitchen.
Also on the ground floor are two bedrooms and a bathroom. On the first floor, you'll find a third bedroom and bathroom and plenty of storage space. Half of the upstairs is open to the living room below.
Build This Cabin
Lilly Cabin Plans
Lilly is a three-story home, perfect for an expanding family. The basement houses the garage, two bedrooms, and a laundry room.
Up to the main floor, you will find the great room, a kitchen and dining area, and two more bedrooms. The second floor, which is loft space, has room for a bedroom and a second bathroom.
Build This Cabin
Tom's Cabin
Tom's Cabin, named after its owner and maker, is one of the most thorough plans presented here.
This cabin can be built for $1000 and features a bedroom and bathroom. In our opinion, the plan is best suited to either an exploration or camping cabin.
The plan includes detailed elevations and roof designs.
Build This Cabin
What You Should Know About Log Cabin Plans
When it comes to building a log cabin, there are many factors you will be unsure about such as notching techniques, lumber selection, golden ratios, foundations, and general best practice.
Below, we have compiled the best pieces of advice and snippets of expert guidance that will be very helpful to you when it comes to selecting a log home.
Once you can understand the different notching and construction techniques available to you, you will be far better informed to select the best log cabin for you!
Log Cabin Costs
You should familiarise yourself with the basic costs for log cabins. To select a log home plan you should be able to answer:
What's the typical cost per square foot of a log home?
Is there a ratio used for kit cost to completion cost?
In this example a 800 square feet log cabin was built for $20,000. Having undertaken industry research on log cabin kits, we discovered a typical log cabin (1,100 square feet) costs $58,000 to build from start to finish.
If you're looking for fast and easy numbers to use for a budget:
Self-build log cabin price per square foot is $125 per foot.
The Golden Ratio of 1:3 for log cabin kits (e.g. if a kit costs $50,000 the finished price, including labor, will be $150,000).
The Golden Ratio is 1:2 for log cabin kits excluding labor.
To correctly plan and budget for your log cabin, read How Much Does it Cost to Build a Log Cabin.
Expert Advice
Tips and tricks come in many forms, but the experts have lots of advice for you when it comes to selecting cabin plans and building your log cabin. We've interviewed 21 leading experts in log home construction and have summarised their guidance into bullet points below:
Design prudence. Make sure your log plan has large overhangs, covered decking areas, and good landscaping to slope the grade away from your cabin.
Select a plan based on your lifestyle! Log cabins can be very unique and they should be as unique as the person living in that log home.
Find the best physical location to build your cabin. The best tip is to ensure your log home is protected from natural elements such as rain, water, and wind.
Position your cabin correctly. Ideally, you will want to position your log cabin south facing so the sun goes from east to west.
Natural air-dried logs are superior to anything else when properly dried (typically 6-8 months to acclimatize). This will reduce vertical wall shrinkage and settling.
Source the highest quality materials you can afford. It will make a large difference to the longevity of your home and the amount of maintenance you will undertake.
Getting the design right for your log cabin is important for the following reason: It will enable you to get your cabin to work better on your land for energy efficiency and future maintenance.
So, what do the experts want you to learn?
TOP TIP: A design is the single most important decision for the longevity, maintenance and efficiency of your log cabin.
Log Cabin Notching Techniques
A detail often forgotten about during the planning and design stage is the notch type you will use for your log cabin.
If you haven't built a log home before, a notch is a construction technique that enables two logs to intersect each other forming an air-tight seal that weatherproofs the cabin.
What's important is that you understand which notch type the cabin is using. That's because different notches require different woodworking ability levels and costs. There are four major classifications of notches for a log home:
Traditional Notch – minimal maintenance and finishes looking like a Scandinavian Saddle Notch.
Dovetail Notch – requires a high ability level and finishes looking like an Appalachian style log home.
Corner Post Notch – requires the highest skill level and finishes looking like a rounded corner log cabin.
Butt and Pass Notch – requires a minimal skill level and finishes looking like a traditional cabin.
If you're interested and want to learn more about log cabin notches then try reading Log Cabin Notches for Beginners.
Summary
Cabin plans can be used for a wide range of purposes, from the main home to a holiday lodge, or perhaps a guest house.
Whatever you want to build a cabin for, we hope these sixteen free plans have got you thinking about the different cabin styles and ways of building.
Did any of these cabins make you want to get out and build your own? We'd love to hear from you if you have any questions. Let us know in the comments below.