5 Best Log Cabin Rentals in BIG BEAR, Socal
A short 150km jaunt from Los Angeles, Big Bear has become one of Southern California's premier escape* destinations.
* Urban escape, not maximum security prison. Useful distinction.
Burnt out city-dwellers flock to this mountainous town to enjoy the winter ski-slopes and summertime hiking trails or mountain biking, centered around a picturesque lake ripe with recreational opportunities. Of course, the sunshine state isn't short on mountain ranges or beautiful nature, but what makes Big Bear so appealing is that it's one of the few alpine communities that can accommodate altitude addicts of every type.
Despite being a relatively small settlement, vacation rental scene has taken off in a BIG way in recent years, creating a plethora of different lodging options.
Seeking an Instagram-worthy vacation home? Or perhaps you just want somewhere that won't put a cavernous hole in your savings?
Maybe you're ambitious and want it all?
For a place that ticks each and every box, you might take a look at one of the many cabins for rent in Big Bear.
Here are 5 Big Bear cabin rentals to consider ahead of your next mountain getaway:
1. Summit Chalet- A log cabin next to the lake

Photo courtesy of Summit Chalet
As far as Big Bear family cabin rentals go, Summit Chalet is one of the region's finest. Situated in Big Bear Lake, this beautiful log cabin is spacious, cozily decorated and has the facilities to keep each member of the clan happy. That includes free internet WiFi throughout the property, pool and futsal tables, a flat-screen TV with satellite channels, and a sizable outdoor hot tub.
A hot tub in the woods? Bet you haven't done that one before.
This cabin has a lot going for it, but arguably the biggest selling point is the location.
Being amidst the trees, you'll feel like you're detached from civilization, yet everything you could need – specifically grocery stores and restaurants – is still comfortably within walking distance. That's right, you can have the best of both worlds!
Should you want to venture a little further, Alpine Slide at Magic Mountain and Gold Mine Golf course are fun activities within 2.5 miles of the property.
2. Summit Happy Cabin (w/ Hot Tub)

Photo courtesy of Summit cabin
Ready to take your clothes off, but want a little extra privacy? Good news: Summit Happy Cabin features a relaxing jacuzzi in its self-enclosed back yard.
For those clothes-on indoor moments (which tend to be more frequent), this wooden chalet is large and full of amenities. Alongside its 2 bedrooms and fully equipped kitchen
(with dishwasher, fridge, washing machine – the works), you can enjoy free internet WiFi, a flat screen TV, and a cozy fireplace for those chilly evenings.
The property also features a perk you won't find at most cabin rentals in Big Bear Lake :
High speed EV hookup. Electric vehicles rejoice!
With the slopes nearby, Summit Happy Cabin serves as an ideal winter base camp for skiers, boarders, and fall-head-first-down-a-snowy-incline enthusiasts. All other shops and services you could need are close by.
Big Bear Lake cabin rentals are plentiful, but you'll be hard pressed to find a spot this pleasant at such a reasonable price.
3. Catalina Creekside Cabin – The cozy Cabin right off Big Bear blvd

Photo courtesy of Catalina Creekside Cabin
Should you be browsing Big Bear mountain cabins with a king of the forest complex, then stop looking. Set in its own treed lot and boasting ample wooded real estate,
Catalina Creekside Cabin is the place for you.
In truth this picturesque vacation property will suit just about anyone with a penchant for natural space, peace, and comfort. Within the 1,000 sq ft 2 bedroom 2 bathroom home, you'll enjoy a snug living room that features a river rock wood burning fireplace and funky red leather seating, a fully equipped kitchen, dining area, free WiFi, and a large rear deck for kicking up your feet and admiring your new surroundings.
The location isn't too shabby, either – the cabin is conveniently near the ski resorts, with shops and restaurants also close. Snow Summit is a casual 15 minute stroll, and the local Big Bear Alpine Zoo is only 1.7 miles from the property.
4. Timber Lodge – The Pet friendly log cabin

Photo courtesy of Timber Lodge
There are cabin rentals in Big Bear Lake, and then there is Timber Lodge. Such is the exquisite design and craftsmanship of this log cabin, that it deserves to be in its own category.
No expense has been spared in making this lodge visually spectacular, but it isn't merely an eye pleaser. The 4,600 feet of square living space with 4 bedrooms (3 masters with ensuites) means there's enough room for all 16 family members. Or friends, if we're being realistic.
No matter who is staying, they won't be short on comfort; the property features a private hot tub, a marvelous wood-burning stone fireplace, a separate bar with pool table, a large kitchen with a professional-grade Thermador cooker, and a deck complete with gas grill
When staying here, you are obligated to cook up a feast and eat yourself into a food coma.
If your idea of happiness is secluding with your loved ones and enjoying each other's company – pets included, they are permitted! – then Timber Lodge log cabin Big Bear really is vacation home perfection.
You won't find many reasons to leave this stunning alpine abode, but for your convenience shops, services, restaurants, and Big Bear's slopes are a stone's throw away.
5. 2071 Hillside Haven Home – Log home with a breathtaking lake view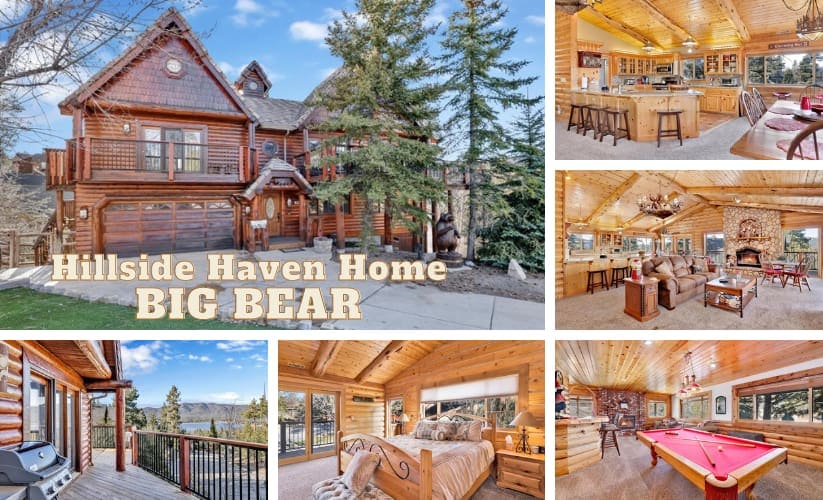 Photo courtesy of Hillside Haven Home

Hillside Haven is a mountain marvel that is unrivaled in its charm. This gorgeous log cabin combines exquisite craftsmanship, with luxury interiors and facilities. But what really separates it from many others in the region is the breathtaking views of Big Bear Lake. Situated less than a mile from the Marina, you can soak up the spectacle without ever having to don outside clothes. A privilege made possible by the large balcony, which also features a BBQ.
The upstairs open plan living room is designed to be naturally bright in the daytime but also furnished to ensure maximum coziness after the sun has set. With an integrated full kitchen, plenty of seating, and a wood burning fireplace to keep everyone toasty, it's a space that is ideal for eating and socializing.
Looking for more of a downstairs vibe? Then you might want to head…downstairs.
Here you can enjoy a drink or two at the minibar, or a game or twelve of pool. And don't worry, you won't get cold – there's a fireplace down here, too! When you're ready to zonk out, the property's 4 comfortable bedrooms will ensure you and guests a good night's sleep.
Thinking of putting some outside clothes on? It's worth it, as being so close to the town, a host of attractions and activities are practically at your doorstep.
No matter how you decide to spend your time, cabin rentals Big Bear don't come much better than Hillside Haven. This is a log cabin like no other for your next vacation in Socal.
Last words about Big Bear
Traveling as a couple? Or solo, even? Maybe a pool table and flatscreen TV aren't included in your dreamy version of mountain life. In which case you may wish to look at one of the Big Bear small cabin rentals that are available.
Big Bear Cabins California are aplenty, it's just a matter of deciding on the right place for you, and your companions.
Don't let city life drag you down – the mountains are calling your name!
(Be sure to answer, they resent being sent through to voicemail).